Lets face it… it's been a year! There haven't been many reasons to dress to the nines in 2020. The good news? Jewelry trends for the new year seem to follow similar trends for 2020. If you had already purchased the perfect accessories, you will still be the star. We fully anticipate showing off our sparkle in 2021. Here are the five jewelry trends we believe will help you perfectly accessorize your best-dressed self in 2021!
Pendant necklaces
Want to steal the show in 2021? Pendants that are personalized (think monograms, initials) or pendants that call out your passions will be one of the most talked-about jewelry items of the year. This is your chance to show off what makes you unique and… YOU! Think whimsy/chic/personal when picking out that just-right pendant. 
Pendants will work well alone or layered with other chains of different lengths to make an even bolder statement.
Silver (over gold)
Adding in silver pieces will keep you 'trending' for the new year. Keep your gold jewelry in the picture, though, and wear a simple silver ring alongside your gold go-to band to really make a bold statement. From chunky cuffs to solid band rings to sparkly silver earrings, going on a silver streak is one way to be 'on trend' for the year. 
Lab-Grown Diamonds
Lab-grown diamonds will continue to be a growing trend in the world of jewelry. Diamond buyers are increasingly becoming more attracted to their price, transparency, and clarity. And many like the thought of an environmentally sound diamond choice. Lab diamonds have proven to be just as good as the real thing!
Unique Pearls
Compliment the classic strand of pearls in 2021 with a uniquely-styled and a clustered presentation of pearl jewelry. Look for that distinctive drop pearl earring set or a bunch of pearls manifested in a different way than a single strand. The 'more the merrier' is the adage to think of when choosing your pearl addition for the year.
Linked Chain Styles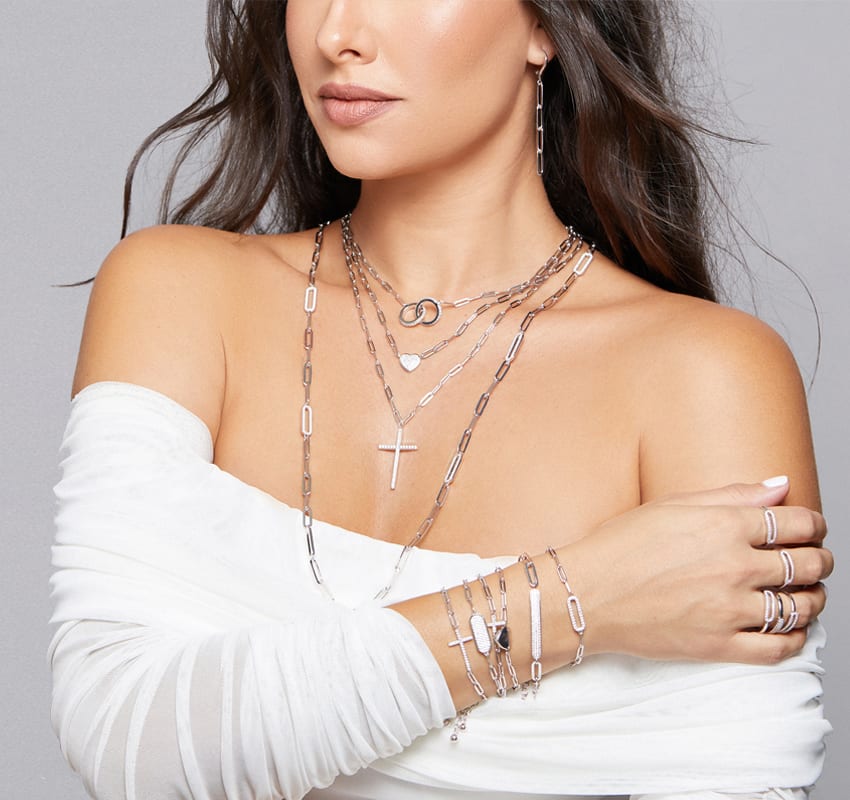 From thin to thick, layered, and everything in between the linked chain dominated the jewelry world going into the new decade and continues to trend upward. The 'paperclip' chain is one style in particular that continues to be popular. The basic link chain necklace can be worn at home, with sweatpants, or as carefully chosen video-conference jewelry, making it the accessory that goes with anything!
The linked chain trend in necklaces, bangles, rings, and earrings is a style that can be 'something for everyone.' 
Out of all of the statement trends for a new year, jewelry trends always allow for ways to get playful and experiment. Play with color, have a blast playing with oversized statement pieces, combine styles, or just go minimal and keep it simple. The choice is yours! Shop brentwoodjewelry.com or visit us in the store to find these top five trends in jewelry, and more!